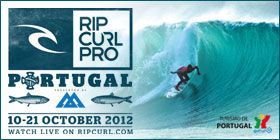 Rip Curl Pro Portugal runs from October 10th – 21st 2012 at the infamous sand-bottom barrels of Supertubos. Adam Melling surfs in Ht 10 vs Jeremy Flores and Michel Bourez. Owen Wright surfs Ht 7 vs Bede Durbidge and Yadin Nicol. Magic Seaweed, official forecaster for the Rip Curl Pro Portugal, are calling for: - NNW swell for the weekend looking likely for head high+ surf. - Large storm system sending pulses of more westerly swell for next week with a very very mixed, but positive, longer range outlook. Good luck fellas.
Update Oct 10th-11th
Layday
Update Oct 13th
Mello had a good heat but no win and moved into round 2. Owen smashed it in round 1 with a 16.26 total and is into round 3.
Update Oct 14th
Mello surfed well today but couldn't get past Otts and was eliminated.
Image Rip Curl
Update Oct 16th -17th
Laydays
Update Oct 18th
A good day for Owen in Portugal today advancing into the quarter finals. He smashed Otts in round 3 and finished the day eliminating Mick with a 10 and 8.00.
"He got the jump of me so quick there. I was thinking, 'Alright, this guy's in the title race and he's not messing around'. Then my 10 was behind his wave and that put me back in the hunt. Right there at the end of the heat, he paddled and had a dig and then my last wave came through. I had to punch through a pretty big chandelier to get out of the barrel, but I'm stoked with that. I needed it, it's a pretty big confidence booster for me."
Owen surfs in QF 3 vs JDub.
Update Oct 19th
Despite getting some sick pits Owen fell just short of JDub and had to settle for 5th.
Image Rip Curl
Click here for the Heat Analyzer
Local time in Portugal -