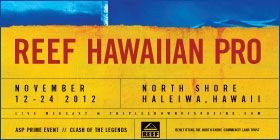 Reef Hawaiian Pro the first jewel in the $1million Vans Triple Crown of Surfing runs on the four best days of surf during the period of November 12-24 at Haleiwa Ali'i Beach Park on the North Shore of Oahu. Stu Kennedy starts in the round of 128 Ht 3 and Adam Melling in the round of 64 Ht 5. Good luck fellas.
Surfline forecast -
The first few days of the waiting period (12th-14th) will be minimal/flat. However, a new storm has recently developed in the Northwest Pacific and will deliver a decent size shot of NW swell for the North Shore late Thursday/Friday (15th-16th).
Update Nov 13th - 15th
L

ay

days.
Update Nov 16th
A dominant display by Stu today and an easy progression into round 2.
Image ASP / Cestari
Update Nov 17th
No love for Stu from the judges today, eliminated by 0.11 points.
Update Nov 18th
Unfortunately Mello was knocked in the round of 64.
Click here to go LIVE
Local Island time -