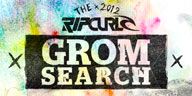 2012 Rip Curl GromSearch series presented by Telstra final leg runs December 15th - 18th at Coolum on the Sunny Coast. the event also includes the Rip Curl GromSearch National Final. Mikey McDonagh, Luke and Zak Condon, Zac Wightman, Blake Ghanimeh, Regan Martinovich and Cali McDonagh are heading up. Good luck groms.
Update Dec 15th
In the U16's Zak and Jake had good heats today and

Regan came 3rd. In the 14's Zak, Luke, Mikey and Zac all posted 2nd s with Blake finishing 3rd. In the 16 girls Cali had a win. All surfers progress to round 2.
Update Dec 16th
In

round 2 of t

he U1

6

's today

Jake had a win, Luke and Zak placed 2nd and Regan a 3rd. On their combined results Zak and Jake both progressed to the quarters where they both finished

the event 7th. Cali had another great heat and moved into the final of the U16 girls. Mikey will be hoping to fare better next time

t

he U12 boys hit the water

after a 3rd in round 1 today.
Update Dec 17th
A better day for Mikey in the U12's with a heat win and progress into the semi's. In the 14's Zac and Mikey had wins while Zak and

L

uke placed 2nd. On combined heat results Zac and Mikey are into the quarter finals. Cali finished 3rd in the 16 girls final today but is focussing on the

National final tomorrow.
Update Dec 18th
Another final for Mikey finishing 3rd today and capping off a stellar 2012. We

ll done mate.

Cali

finished off the 2012 comp year with a 4th in the Gromsearch national final.