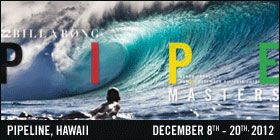 The Billabong Pipe Masters, the final stop on the 2012 ASP World Championship Tour will commence its waiting period tomorrow, December 8, and is projected to enjoy solid swell and great conditions over the opening days of the window. Adam Melling is currently sitting 2nd on the ratings for the Triple Crown and starts in Ht 7 Round 1 vs wildcard Kai Barger. Owen Wright begins his Pipe campaign in Ht 2 of Round 3. Good luck fellas.
Update Dec 9th
Mello looked very comfortable out Pipe today getting

some big pits and a heat win.
Mello charging Pipeline. Photo ASP Cestari
Update Dec 10th
Mello was eliminated today with one excellent score ( 8.70 ) but no back up. Owen was bundled out in the same circumstances in round 3. Both fellas have requalified for next year's World Tour.
Image Cestari
Click here to go LIVE