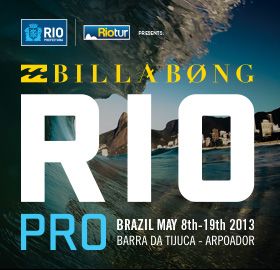 Billabong Pro Rio at Barra Da Tijuca, Arpoador runs May 8th - 19th. Adam Melling surfs Ht 10 vs Jordy Smith and Kai Otten. Owen Wright is out of the event but Tyler will start in Ht 4 of the womens event. Good luck.
Update May

9

th
Mello started round 1 with a sick barrel that scored a 9.57 and led for 20 minutes but couldn't find a back up and finished 2nd.
Click here for the Heat Analyzer.
Update May 10th
Ty went to work today and left the water afte

r

Round 1with a win. She dominated her heat and opponents with big turns, tube rides, wave choice and fitness. In Round 3 Tyler surfed really well with some strong turns in the strong cro

ss-shore and came 2nd. Ty went to town in Round 4 ripping massive top turns and banking 2 8.50 scores. Tyler surfs next in the Quarters vs Malia Manuel.

Well done
Click here for the Heat Analyzer.
Update May 11th
Tyler has defeated Sally Fitzgibbons 17.80 to 15.67 to win the Colgate Plax Girls Rio Pro in peaky two-to-three foot waves, simultaneously taking the frontrunner position on the 2013 ASP Women's World Championship Tour (WCT). Ty dominated the Barra Da Tijuca lineup from start to finish, unleashing forehand combinations to seal the deal.
"This feels pretty good. This whole event has been stepping stones for me. I started off a bit shaky and this is my first even where my family is not here with me. Brooke Farris was here looking after me and thanks to everyone for all of their support. After I lost that Round 3 heat I just wanted to catch waves and I stayed busy from then on. It's just the way it worked out. I just love catching waves. I just kept building and building and I wouldn't want it any other way. This is just fantastic to come to Rio, I love it."
"It's awesome to move to the top of the rankings, but I'm honestly not thinking about the World Title. I'm just having fun surfing and enjoying each event and we'll see what happens at the end of the year."
Congratulations Ty
Update May 17th
Mello was leading his Round 2 heat until the final minute when Kai Otten was given the nod by 0.04 points in the worst waves for a WCT event in recent history.
Click here to go LIVE
Local time in Rio