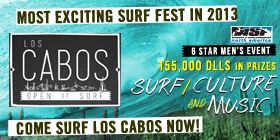 The inaugural ASP 6-Star Los Cabos Open of Surf runs June 17 through 23, 2013 @ Zippers, Los Cabos Mexico. Stu Kennedy is there on a mission to grab some cash and points before the birth of his Bub. He starts in Ht 15 round of 96. Good luck mate.
Update June 20th
A great start to the event for Stu with a heat win in zippy 2' waves at Zippers. He surfs next in the round of 48 Ht 8.
Update June 21st
Similar conditions again today and another win for Stu. He moves into the final 2.
Update June 22nd
Stu smashed it today and is one heat off the quarters.
Update June 23rd
Stu couldn't get past the Kiwi in round 5 today and finished in 9th. Well done mate.
Click here to go LIVE
Local time in Mexico -