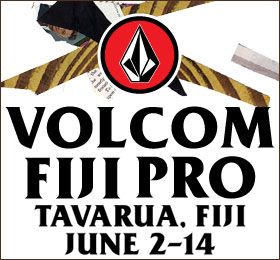 Volcom Fiji Pro runs from June 2nd - 14th at Tavarua, Fiji. Adam Melling starts his Pacific leg in Ht 9 vs Kerrsy and Holy Toledo. Good luck mate.
Update June 3rd
Lazy day. Check the forecast below
Update June 4th
Despite holding a 9.63, for a sick disappearing act, Mello finished 2nd in perfect 4' - 6' Cloudbreak bazzas. He surfs again in Round 2.
Update June 5th
Lazy day
Update June 6th
No luck for Mello today eliminated after the hooter in a tough heat at Restaurants. Adam needed a 4.54 to progress but was given a 4.43.
Heat Analyzer here
Click here to go LIVE
Local time at Cloudbreak -