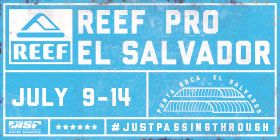 Reef Pro El Salvador ASP 6 Star event holds a waiting period from July 9th – 14th at the Central American gem of Punta Roca. Stu Kennedy will be there all fired up after his 3rd in South Africa. Good luck mate.
Update July 11th
Stu immediately found his form at the Reef Pro El Salvador, belting the day's high heat total of 18.67 out of 20 in cranking waves.
"I got in yesterday afternoon and came off of the third in South Africa. Coming here I was worried about keeping my form because I put so much energy in to that event and I kind of changed my strategy because it's just so hot and I'm not used to it. I took it a little easier in that heat and it's just too easy to surf right now. The waves are so perfect."
Image ASP
Update July 12th
Stu was eliminated today holding a 7.90 but only a small back up, finishing 25th . Unfortunately the 410 ranking points will not improve his qualification chances. Stu now heads to the Vans US Open of Surfing.
Click here to go LIVE
Local time -