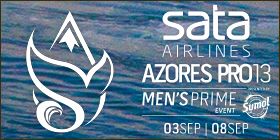 ASP Prime Men's SATA Airlines Azores Islands Pro is scheduled from September 3rd - 8th, 2013 in Sao Miguel, Azores Islands. Adam Melling will be there chasing valuable rat
ings points. Good luck Mello. Stu Kennedy has pulled out of the event due to the impending birth of his 1st grom.
Update Sept 4th
Adam posted a solid heat win for round 1 in clea
n 2' - 3' waves at
Santa Bárbara beach. He surfs next in Ht 4 round of 48.
Image ASP
Update Sept 5th
A great day at work for Mello, progressing through 3 rounds and making it to the round of 16
.
Image ASP
Update Sept 6th
Mello kept everything on track with a round of 16 win and moved into the Quarters
Image ASP
Update Sept 7th
Mello took control in the round of 16 and the Quarter Finals. He smashed Brother in his semi with a 16.60 heat total, matching the backhand attack and going more critical . In the Final Adam did the best he could in the crappy onshore conditions but could not find any waves that would allow him to get the score and finished 2nd. Mello gets 5200 ratings points and should secure his place on the 2014 WCT Tour. Congratulations mate.
"It's a bummer that we didn't get many waves at high tide, but I'm pretty happy, Tomas got me on that first exchange, that's what set him up. I like power surfing and if you can do big turns on a small wave they're going to love it so that's what I was trying to do. I really wanted to get on the podium this time and get a positive vibe going through the next few events through Europe, it's a good start and I'm looking forward to the next !"
Image ASP
Image ASP
Image ASP
Click here to go LIVE
Local time -