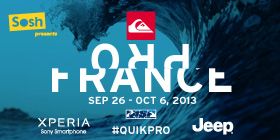 Quiksilver Pro France waiting period runs from September 26th - October 6th in Les Landes, France. Adam Melling will surf in Ht 5 with Kelly Slater and Dane Reynolds. Leo Fioravanti has scored a wild card. Good luck fellas.
Update Sept 26th
Mello smashed his Round 1 heat
ruling priority,

surfing with power and combination of turns making Dane and Slater chase him for 29 minutes. Unfortunately Old Baldy went ballistic on one just before the hooter and got the nod from the judges with Adam 2nd. He has another go in Round 2. Leo scored an 8.40 but couldn't find the back up to get past Kolohe. In Round 2 he was eliminated by 2x World Champ Mick Fanning.
Leo photo ASP
Mello photo ASP
Update Sept 27th
Adam fought hard in a tough heat against good mate Kai Otten but fell victim to the high tide slow down. Both surfers had a 9 and Mello was chasing an 8.58 , unfortunately time ran out and then the event was put on hold by the little French man. Bad luck mate, smash it in Portugal.
Click here to go LIVE
Click here for Heat Review
Local time -