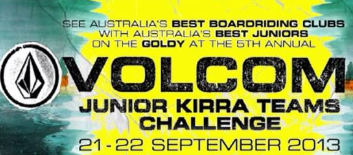 Volcom Junior Kirra Teams Challenge 2013 will be held in the best waves on the stretch of coastline between Kirra, QLD and Duranbah, NSW, on 21st & 22nd September 2013. The format of the event is the same as the Kirra Teams Challenge, with each club submitting teams of six including two Under 14 surfers, two Under 16 surfers and two Under 18 surfers.Le-Ba will experimenting with entering 2 teams. Good luck groms.
Update Sept 22nd
Le-Ba groms did the club proud posting the best possible result , Le-Ba B 1st and Le-Ba A 2nd. B team made up of Dan Hosking, Aeran Thomas, Eli Carr, Kye Healey, Rhys Tatum and Kye Sommerville finished with 5 x 1st place and a 4th. A team made up of Luke Condon, Jake Snellgrove, Mitch Kay, Sam Morgan, Regan Martinovich and Zac Wightman finished with 3 x 1st, 2 x 2nd and a 3rd. Kirra A finished 3rd with Snapper 4th. A big thankyou to everyone involved in the Club Junior Development program. Incredible work fellas, congratulations !!
Champions
Jake
Dan
Zac
"B" Team
"A" Team
Well done
More for the trophy room
Winners are grinners
Volcom kirra junior teams challenge 2013 from surfonmars on Vimeo.