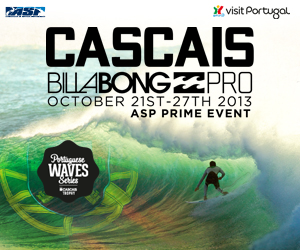 ASP Prime Cascais Billabong Pro runs from October 21st - 27th at Praia De Carcavelos , Portugal. Adam Melling current World Ranked 18th and Stu Kennedy current World Ranked 43rd and Le-Ba Opens 1st are there chasing barrels, points, cash and fun. Good luck fellas.
Update Oct 21st
Layday
Update Oct 22nd
Stu did the best he could in the Portuguese washing machine , staying inside the transfer zone for nearly the entire heat but unfortunately went down in the last few minutes. Lucky Dip out there today. Bad luck mate. Watch Stuey bounce back on his way to WCT qualification in Hawaii.
Update Oct 23rd
Mello took control of his opening heat, leading from start to finish and easily progressing. In the last heat of the day Adam had another dominant win in the Round of 48.
Update Oct 24th
Layday.
Update Oct 25th
Mello had a great day at the office today, surfing with absolute commitment and control. Adam has already put himself in a requal position for 2014 before he heads to Hawaii where he has had so much success in the last couple of years. The points will be nice from here on but the focus now will be on the $50k bonus for the Moche Series win.
Update Oct 26th
Mello demolished his opponent in the Round of 16 , scoring the only 10 of the event. He couldn't find the good waves in his Quarter Final and finished the event 5th. Connor Coffin was the only surfer that could have taken the Moche Series Title and bonus but he fell just short. Adam is the first winner of the Euro Triple Crown and is currently 12th on the One World Ranking. Congratulations mate.
"I'm feeling amazing, I've got a wedding next year and my girlfriend will be pretty happy with that !Over in Portugal I've done pretty good in the past and it's good to get a couple of finals in the bag and win the trophy for sure ! The waves have been fun and we've always had some pretty powerful surf."
"I was a little bit anxious this morning and I was really keen to get out there. That thing came to me I knew it was a bomb as soon as I looked at it, you could see it was going to tube pretty good, I was happy to get that 10 straight up !"
Local Time -
Click here to go LIVE