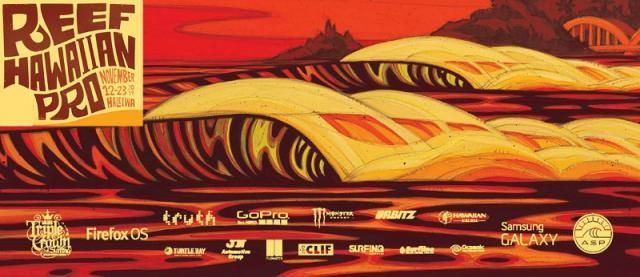 Reef Hawaiian Pro, the first contest of the Vans Triple Crown of Surfing will run November 12-23 at Ali'i Beach Park in Haleiwa. Adam Melling and Stu Kennedy will be in the event. Mello usually does well in Hawaii and will be looking to solidify his requal for 2015. Stuey needs some really good results on the Rock to put himself into the 2015 WCT qualification standings. The forecast is looking like the event will finish in the first 4 days of the waiting period in solid conditions. Good luck fellas.
Update Nov 14th
A great start to the event for Stu today surfing with speed and power, showing variety and innovation. He surfs next in Round 3 Ht 3 and Mello surfs in Ht 15.
ASP / Cestari
ASP / Cestari
Update Nov 15th
Stu was ripping today but unlucky to go down by 0.07.
ASP Ed Sloane
Update Nov 16th
Adam's event started today on Finals day. In round 3 he finished 2nd with a 16.14 total. Round 4 was a comfortable win. His total in the Quarters was 17.20 and another win. Mello took it up a notch in his Semi with a 17.40 total and another win. The Final was his 5th heat of the day. Adam didn't quite find his rhythm and finished in 4th. Incredible surfing today Adam, congratulations mate.
ASP Cestari
ASP Cestari
Heat Analyzer here
Click here to go LIVE
Local time on the Rock -